Pure enthusiasm for filtration
Who we are
Filtration is our passion. We have been active in this fascinating world since 1957, advancing the field and setting new standards: for clean air, for clear water, for our customers. As part of the Freudenberg Group with 48,000 employees around the world, our thoughts and actions are guided by reliable values.
With our solutions, we seek to protect humans and the environment and conserve natural resources. We help our customers optimize industrial processes and make them more efficient. What inspires us: Health and comfort coupled with technical expertise for greater efficiency in industrial processes.
Our customers benefit from application-optimized filtration solutions in many markets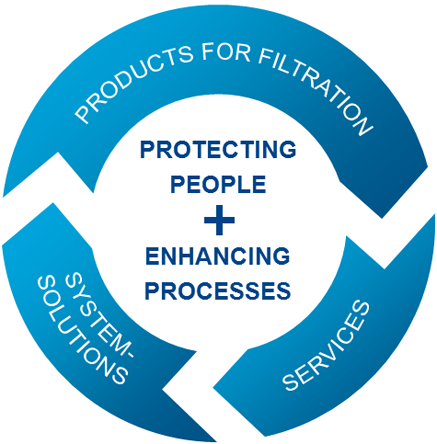 Our industry expertise ranges from automotive, mining and chemicals all the way to cement. Our special fields of competence are: Paint industry, gas turbines and compressors, food and beverage industry, gas phase filtration, end consumer applications, industrial water treatment, dust removal and environmental protection.
"Our success is based primarily on the outstanding dedication of our employees around the world. They give it their best every day, working passionately to offer our customers excellent service and innovative solutions." Barry Kellar, Global Vice President Automotive
Founded in 1957
Pioneer in synthetic filtration media
2009 our start as a Freudenberg Business Group
2,100 employees – this has doubled since 2009
30 sites worldwide
Product brands: Viledon (Industrial) and micronAir (Automotive)
Over 100,000 filters produced per day
We are dedicated to ensuring that air, water and other process media only contain what they are intended to contain: for better quality of life, sustainable environmental protection and the reassuring feeling of having safely mastered processes.
Clean air

In vehicle cabins and engines
In gas turbines and compressors
In paint shops for cars and many other applications
In food and beverage production
In clean rooms and pharmaceutical laboratories
In residential spaces and offices
In hospitals, universities and schools
On cruise ships, in concert halls, in museums
In many industrial applications

Purified water
Process-safe liquids
Corrosion protection