See us at Underground Operators Conference 2021
Learn why Freudenberg are the leader's in-cabin air filtration! see us at UOC 2021 Perth Australia
Freudenberg Filtration Technologies have been protecting the health of miners with their S.A.F.E.air cabin protection (Filtration and pressurization) systems in open cut environments for many years. These are the only approved systems at some sites where upmost protection is required due to the presence of critical contaminants like asbestos and other minerals.
The underground movement
Freudenberg Filtration Technologies are now taking their S.A.F.E.air system underground due to strong interest from industry including at the recent AIOH Occupational Hygiene conference in Perth (Dec 19). In addition to offering highest level protection from mining dust found above and below ground like silica and mineral fibres (asbestos), the S.A.F.E.air system also gives maximum protection from diesel nanoparticles (particularly important for underground operations).
The highest filtration efficiency of any cabin protection system on the market
The HEPA level filters incorporated into the system offer the highest filtration efficiency of any cabin protection system on the market. Additional benefits of the S.A.F.E.air system include very high flow rates and positive cabin pressures to eliminate any dust ingress and quickly remove residual dust brought in from outside environments on personnel's clothing/boots.
Existing common practice
A common practice in mines can be to place OEM A/C systems into recirculation mode to minimize dust ingress but this can result in sharp CO2 rises to unsafe levels. Likewise, alternate aftermarket pressurizer systems can do very little in terms of fresh air exchange, some manufacturers requiring that cabs be completely sealed to allow for positive pressure increase.
The Freudenberg S.A.F.E.air advantage
Freudenberg S.A.F.E.air systems have a very high rate of fresh air exchange while maintaining a positive pressure in the cabin, and keeping CO2 levels down to ambient/safe levels
Freudenberg S.A.F.E.air systems also protect the entire OEM A/C circuit from dust ingress meaning maintenance activities like fan/evaporator change-outs are reduced to zero (a major return on investment).
See the Freudenberg New S.A.F.E.air cabin air filter
Freudenberg Filtration Technologies Australia will be at the AIOH Conference in Perth Australia, 15-17 March 2021 see us at stand 47.
Freudenberg Filtration Technologies in HEPA filters Satisfy the highest requirements for clean air and sterility of filter classes E11 to U15 "Efficient for particles ≥ 0,01 μm". Reliable protection against particles and microorganisms. The MiniPleat technology ensures a homogeneous media velocity for safe, economical operation.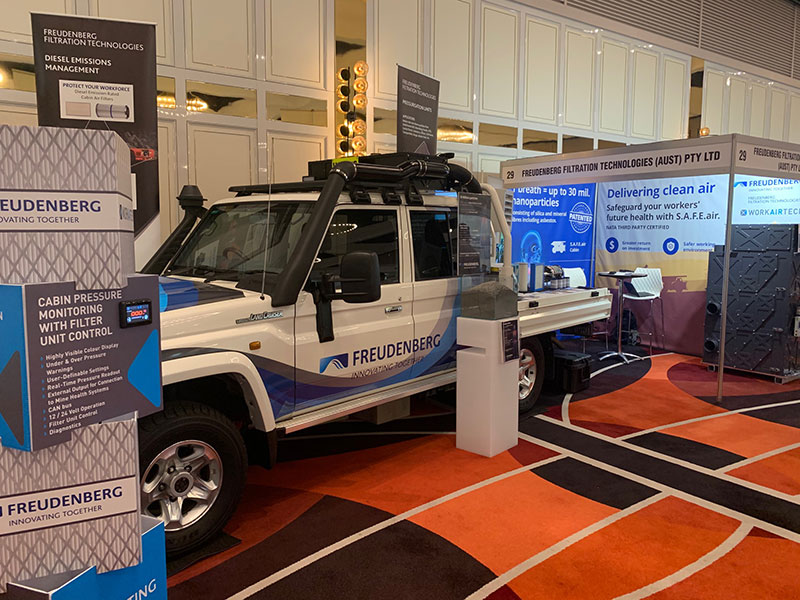 CO2 levels and associated health effects.
| Particle Concentration | Effect on Personal |
| --- | --- |
| 250-500ppm | Normal background concentration in outdoor ambient air |
| 400-1,000ppm | Concentrations typical of occupied indoor spaces with good air exchange |
| 1,000-2,000ppm | Complaints of drowsiness and poor air. |
| 2,000-5,000ppm | Headaches, sleepiness and stagnant, stale, stuffy air. Poor concentration, loss of attention, increased heart rate and slight nausea may also be present. |
| 5,000ppm | Workplace max exposure limit (as 8-hour TWA) in most jurisdictions |
Carbon Dioxide- LV Cabin with standard A/C system
In Recirculation Mode - Sealed Cabin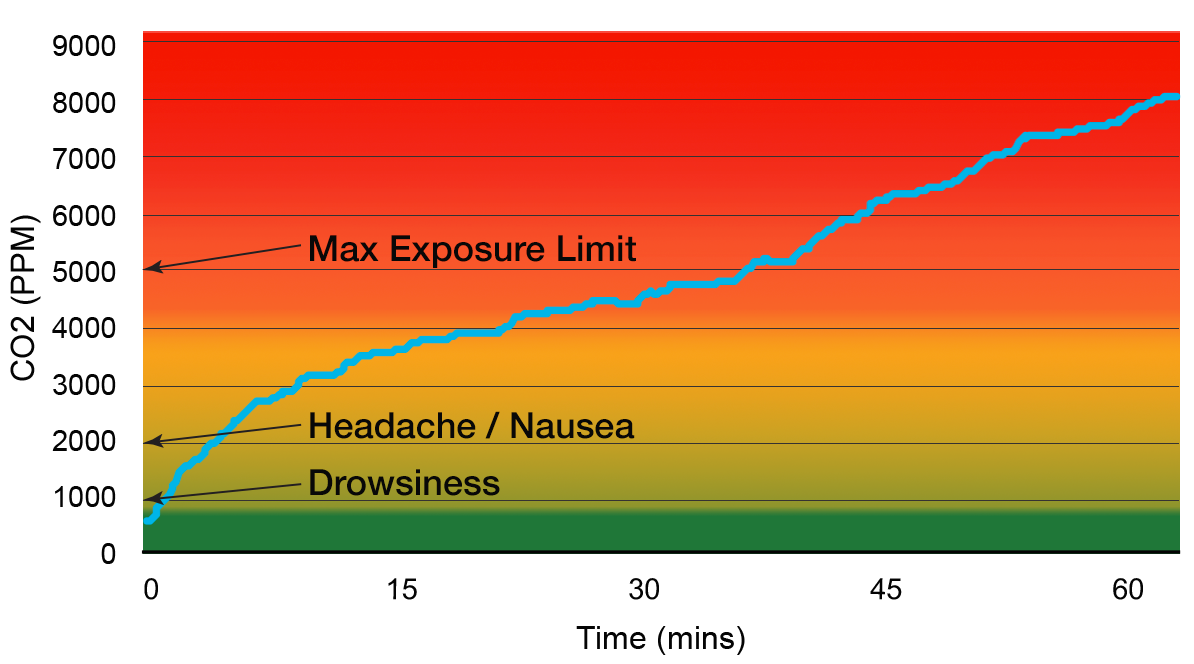 Carbon Dioxide- LV Cabin with Freudenberg S.A.F.E.air system

Nanoparticle reduction- Toyota Landcruiser Cabin with S.A.F.E.air, Perth airport
Average particle size= 10 nanometers (Aviation fuel combustion-4x smaller than DPM)

Freudenberg Filtration Technologies | Microfresh® Diesel Particulate Nanoparticle Filter Solutions Australia.