Used Diesel Exhaust Filter Cleaning & Disposal
Washing of Diesel Exhaust filters
Freudenberg Filtration Technologies do not recommend the washing of used Diesel Particulate Filters due to;
Ongoing OHS / Environmental risks / lack of process compliance (ISO14001)
Washing filters reduces filtration efficiency with each wash (limit number of washes)
Request a detailed filtration efficiency report after each wash.
As per section 42 of NSW Work Health and Safety Act 2011
"A person must not use plant or a substance at a workplace if:
(a) the regulations require the plant or substance or its design to be authorised, and
(b) the plant or substance or its design is not authorised in accordance with the regulations.

An alteration or change to the filter design or performance would be considered a design change, which means that change must be registered if a user of plant is to comply with Section 42 above.
Used Diesel Exhaust Filter Disposal
FFT microfresh® Diesel Exhaust Filters have been classed as solid industrial non-hazardous waste suitable for disposal in landfill.
Due to use of polymer based media, there is potential for used filters to be processed in a waste heat recovery plant that runs turbines for power generation, metal from the filters can then be separated and recycled.
Waste Disposal Operators are now
Incinerating used filters in a waste heat recovery process that runs turbines for power generation
Metal from the filters is then separated and recycled.
Whilst filter disposal cost is negligible in regions where waste is measured by mass, disposal cost via volume basis (even at reduced rates due to recycling) can be significant.
Reduce volume of filters (I.e. Long life / high efficiency filters)
Talk to you waste contractor and arrange weight basis disposal
Reduce waste volume through crushing.
Hydraulic Filter Crushing System
Cycle time of 30 seconds for crush of 5 filters
The unit is compliant with Australian Safety Regulations AS3000 / AS 4204.1
Crushing chamber fully sealed
Filters can be crushed in their disposal bag (bags big enough for air movement).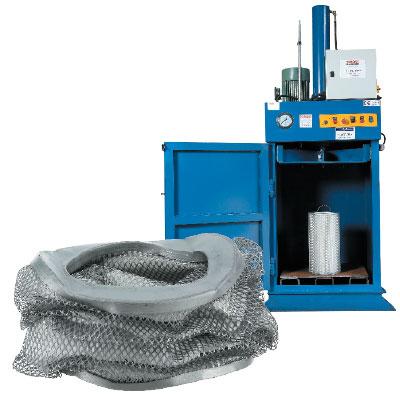 Freudenberg Filtration Technologies | Used Mining and Diesel Filter Disposal Hydraulic Filter Crushing System Australia