Food and Beverage Hygienic air solutions
Discover our Hygienic air filtration solutions that meet the strictest hygiene requirements for the food and beverage industry
Benefit from Freudenberg's expertise now for protecting the food we eat and drink.
Freudenberg Filtration Technologies has been at the forefront of industrial air filtration for over 60 years. Our hygienic air quality solutions enable you to meet the latest standards and guidelines whilst reducing costs, minimizing your environmental impact and gaining competitive advantage.
Whether you are working with Zone H (High Risk), Zone M (High Care) or Ambient High Care conditions Freudenberg Filtration Technologies can provide the expertise to ensure you meet your regulatory requirements.
With our Viledon FilterCair program, we also offer tailored service packages that ensure the efficient running of your filtration systems on an ongoing basis.
Freudenberg Filtration Technologies offers you :
Individually tailored air quality management package, including an air filter program plus service support and warranties
Comprehensive air filter program covering classes G4 to U15, which meets the highest demands of efficiency and operational reliability.
A dependable long-term partner you can rely on
Freudenberg Filtration Technologies is part of the Freudenberg Group, a family-owned company that employs around 40,000 people in over 60 countries across the globe. Founded in 1849, Freudenberg has built its worldwide reputation on innovation strength, creativity, reliability, corporate responsibility and long-term business partnerships. This backing enables us to manage and deliver turnkey solutions of all sizes, from one-off projects to major service contracts.
Air quality is a central prerequisite of food safety. Environ- mental air of a specified quality – temperature, humidity, particle concentration and quality of air – is required both to reduce the possibility of contamination and to protect the health and welfare of employees. This is what Freudenberg solutions deliver!
Getting the right structures in place
In the food and beverage industry, a hygienic and controlled production environment ensures smooth processes and guarantees compliance with the strict regulations imposed by legislative bodies.
The key to getting the right system lies in defining the precise requirements of your processes. We can work with you to assess and evaluate your current supply and exhaust air ventilation systems, and make recommendations and design, install and maintain an appropriate solution.
The
high hygiene (high-risk)
zone is where products requiring the highest level of hygiene are processed and packed. The objective is to effectively control all product contamination hazards.
In contrast, in the
medium hygiene (high-care)
zone, the objective is to control or reduce the creation of hazardous sources immediately before a Zone H area, or to protect food-processing equipment against contamination.
Zones that requires only a low level of hygiene are called basic hygiene (low-risk) zones. Examples include areas used for storing pre-packaged goods.
Under the Viledon® brand, Freudenberg Filtration Technologies offers top-quality, highly reliable filtration products to meet every need within the food and beverage industry. Viledon filters are food-safe Our certificates document fulfilment of the regulations that apply to the respective filter tests.
Achieving maximum air filtration reliability
Our multi-stage filter concept is both simple and efficient: well-matched filter stages using Viledon® air filters of various classes and designs. This usually involves two-stage pre-filtration, consisting of pocket and cassette filters, which removes coarse to fine particles. To deal with the nest particles, the final stage typically includes Viledon® EPA, HEPA and ULPA filters.
Viledon® air filters for pre-filtration
Viledon® offers a comprehensive air filter program of filter classes G 4 to F 9 for pre-filtration, meeting the highest demands of efficiency and operational dependability.
Viledon® air filters for the finest hygienic air filtration
Viledon® EPA, HEPA and ULPA meet the toughest clean-air and sterility requirements in demanding air-conditioning technology and sensitive processes. Effective pre-filtration protects these high-quality filters and considerably extends their operational lifetime.
The use of Freudenberg Filtration Technologies Viledon® high-efficiency filtration solutions ensures maximum hygiene, sterility and air quality compliance within the strictest standards and regulations.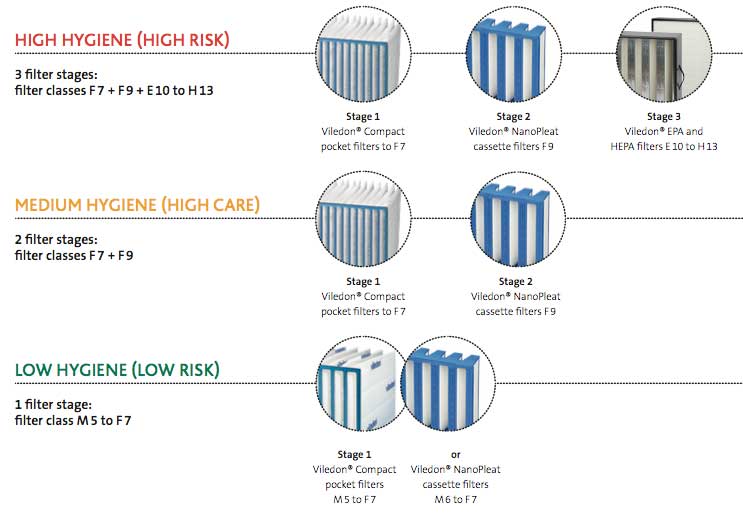 Freudenberg Filtration Technologies offers you complete service from a single supplier.
We do the hard work for you
Our experience and expertise in industrial filtration means that we can take care of all necessary technical and compliance issues for you.
Discover our solutions for the food and beverage industry
Benefit from Freudenberg expertise now
Freudenberg Filtration Technologies | Microfresh® Industrial Filtration Dust Collection Filters Australia.