Diesel Exhaust Filters for Mining Fleet Vehicles (PFF)
Freudenberg Filtration Technologies Partial Flow Filter Technology (PFF)
Our Partial Flow Filter (PFF) technology range includes diesel particulate filters for Atlas 6020, CAT 45B, CAT 55B, CAT IT30G & CAT IT28G Integrated Toolcarriers and Sandvik 663 Mining Fleet Trucks, CAT R1700, CAT R2900 and Sandvik 621 & 517 Loaders as well as Toyota LandCruiser mining fleet vehicles.
PFF Catalytic Diesel Exhaust Filters are a direct replacement for the OEM Muffler.
Freudenberg are renowned diesel particulate filtration manufacturers, approved and preferred suppliers to the Australian Mining Industry.

FFT (Freudenberg Filtration Technologies) Diesel Exhaust filters:
Reduce mine site personnel exposure to Diesel Exhaust Emissions, a Group 1 Carcinogen listed by the World health Organisation IARC and recognised by Australian Cancer Council as Cancer Causing.
microfresh® PFF filters improve air quality underground and help improve the short and long term health of workers in enclosed space.
microfresh® PFF filters are locally made in Australia by Murray Engineering for Australian mining conditions.
microfresh® PFF filters have full product installation and service support provided by Murray Engineering and Freudenberg Filtration.
microfresh® PFF filters are direct replacements for OEM mufflers, quick and easy to install.
FFT Partial Flow Filter (PFF) technology:
Provide superior filtration efficiency compared to OEM technology.
Stainless steel housing and filter element construction ensures filters are durable and vibration resistant.
Partial Flow design ensure filters do not block up and cause back pressure issues.
Provide 90% reduction of Carbon Monoxide and Hydrocarbons, and a 75-92% reduction in diesel particulate matter DPM.
No back pressure monitoring required.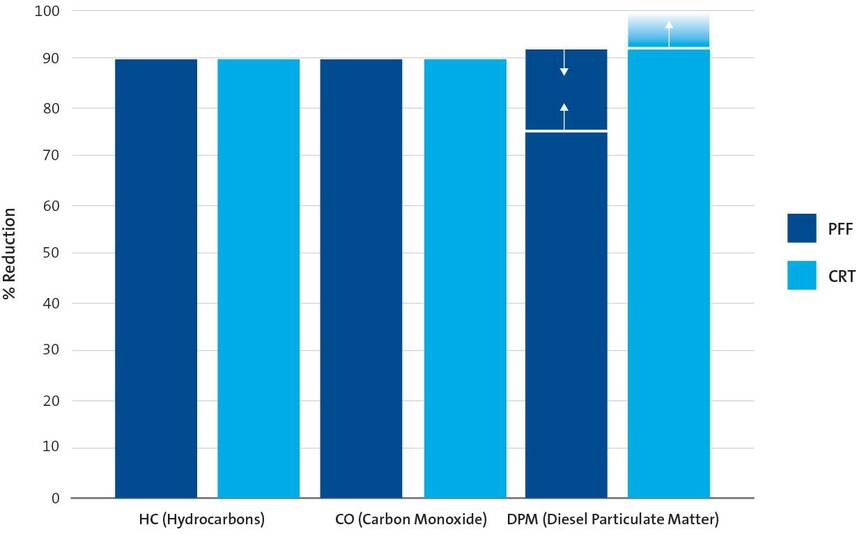 Murray Engineering offer a full service exchange / cleaning service for these PFF Catalytic Diesel Exhaust Filters and CRT Filters. Murray Engineering are a mining services company who understand underground machines, mining operations and the importance of reducing onsite maintenance concerns.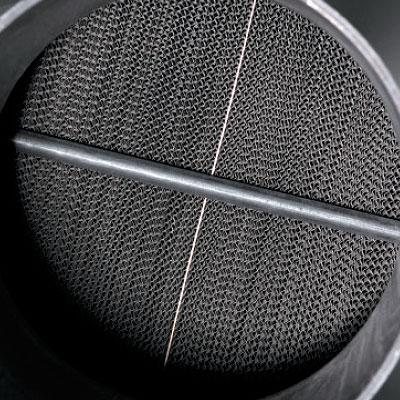 Diesel Oxidation Catalyst
Removes Gaseous Emissions
Removes up to 45% of particulate
Assists self-cleaning action of DPF
Metallic DPF
Removes up to 92% of particulate
Meets NO2 Emission limits
Exhaust Pollutant Components & Their Effects
CO (Carbon Monoxide) = The deadliest and most watched of pollutants, CO if not removed from exhaust can upon exposure be very toxic and lethal. CO restricts the red blood cells ability to absorb oxygen molecules thereby suffocating the body. CO can be cancer causing.
HC (Hydrocarbons) = A very deadly and toxic pollutant, hydrocarbons are responsible for creating small irritants that can be easily absorbed into the lungs if not removed from the exhaust stream. Once in the lungs it can cause respiratory infections and shortness of breath.
The harsh smell associated with all diesel engines is a byproduct of HC.
DPM (Diesel Particulate Matter) = Although not immediately lethal, prolonged exposure to these groups of pollutants can cause serious illness including cancer and respiratory problems. DPM is made up of dry carbon (soot), inorganic oxides (primarily as sulfates), and liquids. Liquids are a combination of unburned diesel fuel and lubricating oils which as a group are referred to as soluble organic fractions (SOF) or volatile organic fractions (VOF).
Acrolein - Clear, colourless or yellowish liquid with a piercing, disagreeable odour.
Extremely flammable and toxic by inhalation or ingestion. Can cause tearing of the lung (Lachrymator). Will also cause irritation to skin and eyes.
FFT PFF Acrolein Reduction Rate: up to 90%
PFF Filter Housing Composition
Stainless Steel DOC & Sintered Metal PFF Element
High Density cell with unique coating
Available in multiple Vehicle Configurations - Custom exhaust available
PFF Filter Maintenance
Minimal maintenance required with PFF Technology
FFT, recommend a maintenance interval of 2000 – 3000 hours that includes heat treatment, and compressed air cleans.
PFF Filter Operating Conditions
Exhaust Temperature range between 150 - 500 °C
Optimal Operating Temperature is between 250 - 320 °C
Safe to operate in enclosed space
Normal Operation Pressure Drop - 1.5 - 4.5KPA
PFF Filter Life Span
Freudenberg Filtration Technologies | PFF Diesel Exhaust Filters for Mining Fleet Vehicles.