Maximum efficiency for your dust removal system
The selection of suitable filters in combination with the system parameters is critical for the efficient operation of a dust removal system.
Several aspects are decisive here for the operator: economical operation, meaning complying with or – even better – reducing operating costs, and an improved energy balance. Extended filtration cycles and cleaning intervals for the filter elements used therefore have a major impact. They can minimize costs for maintenance and replacement over time while contributing to compressed air cost savings.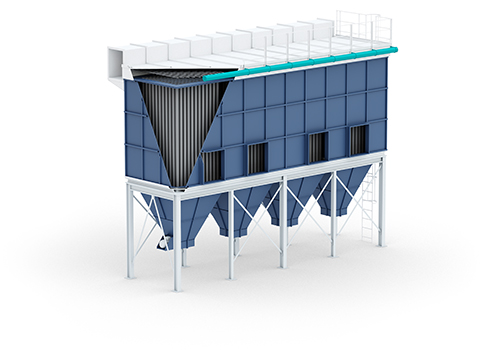 The right solution for each and every requirement
Filter products from Freudenberg do an outstanding job in countless applications that call for dust removal or emission protection. They not only provide top performance in their area, they also achieve a long service life while saving additional space and money, depending on the application.
The analysis of the process requirements, including the nature of the dust arising there, is a major success factor in our concepts. After an analysis of the current situation, we individually select the suitable filter medium and the right dust removal element, which can vary in shape, nominal diameter and pleat geometry. We also provide support on technical aspects of the system design. In our laboratories, we put dust under the microscope and conduct damage analyses. In this way, we develop solutions that can overcome even the most difficult dust removal problem.
The filter medium matters
Minimize maintenance work, lower operating costs.
Specially developed for the diverse requirements of dust removal and emission protection, high-performance filter media provide unique properties for optimal air purity at your plant. Our patented production processes guarantee consistently high product quality.

Corrugated polyester filter media with nanofiber layer achieve optimum values for removing dust from fine smoke produced in welding, cutting and coating processes as well as for particularly difficult-to-handle dusts.
Compared with the performance of conventional polyester media or ePTFE membrane media, filter cartridges with sinTexx Plus have clear advantages and will improve the energy balance of your systems.
The sustainable media alternative, used in Viledon filter bags. For lastingly low emissions and reduced energy costs, plus 50% lower resource consumption during production. Viledon NEXX media offer outstanding properties compared with typical needled felt media: 50% lighter than needled felt, making it easier to handle for cleaning and installation. With original Evolon technology.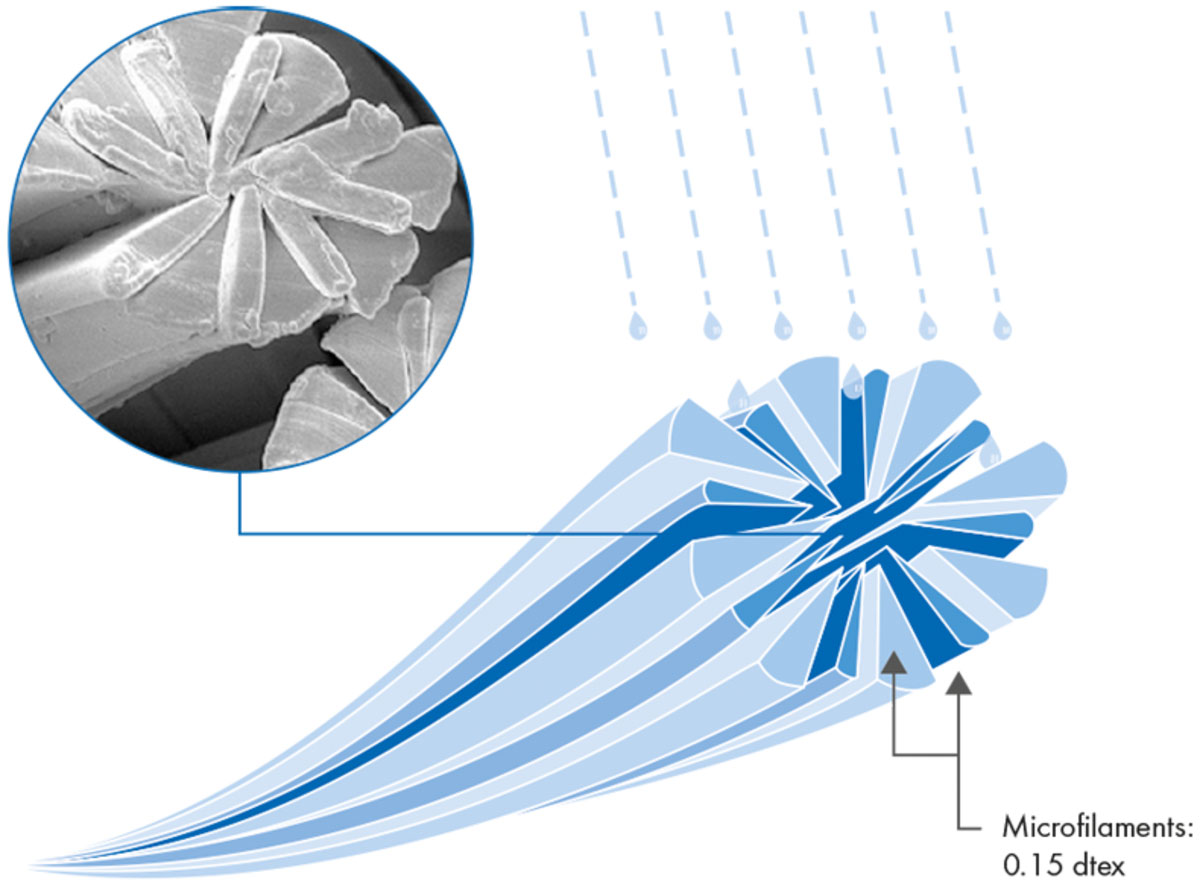 For use in both filter cartridges and filter bags, Freudenberg offers a number of nonwoven media that are equipped with patented pattern printing applied on both sides via carbon suspension. This makes them suitable for separation of explosive dusts while also offering high operational dependability and lasting antistatic properties, even in the face of abrasive dusts.
Robust filter media for suction excavators
The selection of filter media also includes special variants optimized for specific applications, such as for suction excavators or cleaning vehicles. Here the filter medium must withstand the highest requirements: high mechanical robustness and tear resistance, no blocking of the pores by mixtures of dust with moisture, easy cleaning.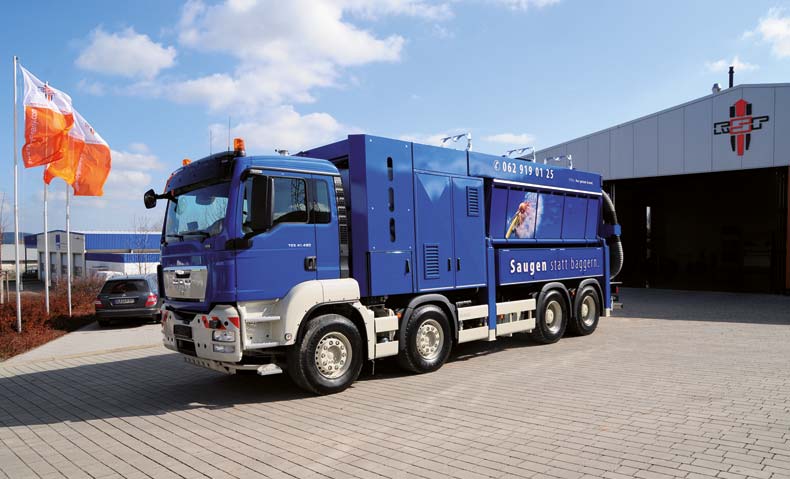 Viledon dust removal filters stand up to the strictest monitoring
Relevant norms and standards
Viledon filter elements for dust removal and emission protection are subjected to the strictest internal and external quality controls.
External inspections include IFA (DIN EN 60335-2-69) tests, which focus on the arrestance of harmful dusts with an eye toward work safety and health protection
Our antistatic filter media are tested by DEKRA EXAM for explosion protection, and we can present certificates documenting the electrical surface resistance and volume resistance < 10⁸ ohms.
For use in the food industry, our dust removal media are inspected for food safety according to the requirements of diverse ordinances. This includes the Food and Feed Act (LFGB), EC and EU regulations concerning materials and equipment that comes into contact with food as well as ISO 846:1997, which regulates the impact of microorganisms on plastics.
In our download area, you will find detailed information about our technologies.
Benefit from our specialized expertise in industrial dust removal.
Select and request detailed information.
Competence areas under focus
Meet specialists who are familiar with the requirements of your industry
Problematic dusts arise throughout a wide range of industrial processes. Many of these are toxic or explosive and are harmful to people and the environment. As a longstanding partner to industry, we are ideally informed of the specific industry requirements and production processes and can ensure the protection of your processes and employees with a dust removal solution customized for your situation.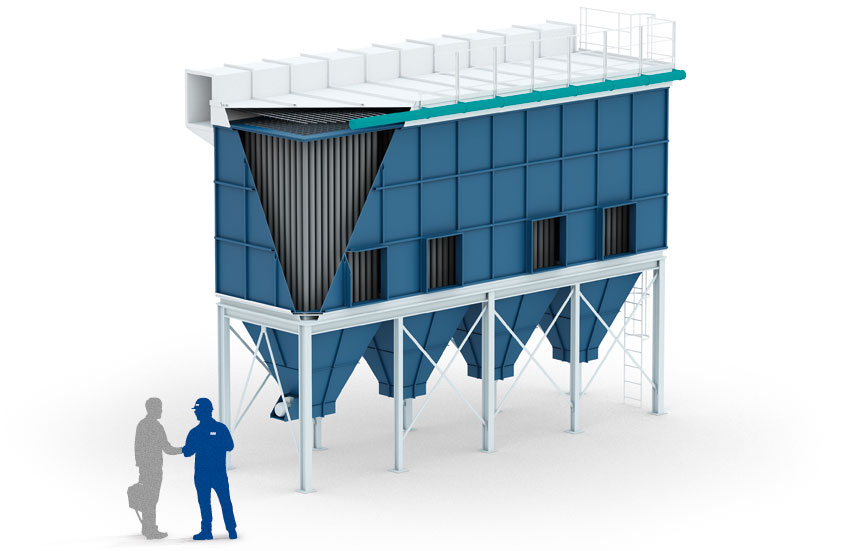 Viledon filter services: Optimization, maintenance and servicing of your dust removal systems
For maximum efficiency and operational reliability
Viledon filter services is a filter management system uniquely customized to your needs to offer you the maximum benefits of high-quality Viledon air filters. From routine inspections to a complete service and maintenance program for your dust removal system.
To achieve maximum efficiency with your dust removal system, we recommend the services of our individually combinable Viledon filter service modules, which will help you save money in the end.
Discover our products for air pollution control.
Click details for more information. Technical data and specific product features can be found in the e-catalog.
Ideal for simple upgrading of typical systems. Long lifespan even under extreme operating conditions. Especially effective in the separation of abrasive or chemically aggressive dusts. The service life can be extended by washing.
e-catalog
Special design details and the availability in all geometries customarily demanded by the market ensure efficient dust removal. Equipped with 3- or 4-hook injection molded flange, spacer ribs on both sides and centering collar.
e-catalog
Tool-free, easy installation on the clean air side, with no laborious screwing work. Simply press firmly and the patented snap hooks lock into place. Perfectly suited for use in suction excavators and cleaning vehicles.
e-catalog
Equipped with corrugated polyester filter medium and nanofiber layer. For the protection of people and machines, they achieve optimum values when dealing with fine dust and smoke. This extends the service life and improves energy balance for the system's operator.
e-catalog
With original Evolon® technology. Outstanding advantages over needled felt bags. 50% lighter, simple handling for cleaning and installation. For sustainably low emissions and reduced energy costs.
e-catalog
Master difficult dust removal tasks while complying with statutory residual dust emission values. Compact, space-saving design with pleated filter media. Regenerated via typical cleaning and washing.
e-catalog
Many different variants: Media with sinusoidal corrugation and patented pleat stabilization, with corrugation plus nanofiber layer or with antistatic features for high operational dependability in contact with explosive dusts.
e-catalog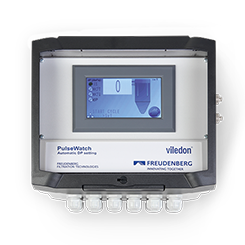 Freudenberg PulseWatch is an individually configurable device for the intelligent control and automation of compressed air cleaning in a dust removal system.