Model G Pressurisation Filter
For heavy duty applications
The PAT-Varivent range offers air volume flows between 0.15 and 1.5 m3/s. It is equipped with reverse-pulse self-cleaning cartridges that can handle high dust loads. The unit is wall mounted and ideally suited for ground floor applications. PAT Varivents are ready-to-use.
They only require compressed air for the reverse-pulse and a suitable electrical connection.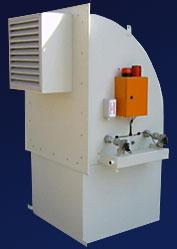 Designed to supply clean air to pressurise electric substations, motor control rooms, telephone exchanges, battery rooms, etc. Ideally suited for ground floor applications and where very high dust loads are expected.
Externally mounted robust compact modular fan and filter unit with wall mounting plate and discharge louver. Internally fitted with a belt driven centrifugal fan and a choice of cartridge filters.
Modular compact design.

Manufactured from 3CR12 corrosion resistant steel.

Epoxy powder coated.

Perfectly matched characteristics of fan and filter.

Easy to install

Washable polyester or polypropylene filter cartridges.

Options include wash down or maintenance free reverse pulse cleaning.
Details.
Specification

Nominal Air Flow

0.5m3/s, 0.75m3/s, 1.00m3/s, 1.50m3/s, 1.8m3/s

Fan
Belt driven centrifugal fan
Filters

Polyester or polypropylene nonwoven Viledon cartridge filters. Reverse pulse self cleaning.

Filter Class

EU8 – upwards – DIN 24185
F8 – upwards – EN779

Electrical Supply

220V / 380V / 525V

Motor rating

1.1kW – 5.5kW

Material of construction

3CR12, epoxy powder coated in papyrus colour
Freudenberg Filtration Technologies | Industrial Filtration Pressurisation Solutions Australia.