Sustainable filtration solutions
Protecting the environment through energy savings
High energy costs, limited resources, increased demands on the environment – the need for sustainable technologies is greater than ever. In this context, the provision of clean air and pure liquids is one of the major challenges facing our society, now and in the future.
Freudenberg Filtration Technologies makes an important contribution in this area by developing high-performance filtration solutions that boost the efficiency of industrial processes, conserve resources, protect people and the environment and help to improve the quality of life.
The ultimate sustainability of filtration solutions is already largely determined at the production stage. Our activities here are diverse: we conserve resources during production, avoid waste, reduce the use of materials, use recycled raw materials, and offer disposal-friendly and space-saving product alternatives.
A couple of specific examples:
In the manufacture of filter mats, we use recycled fibers. We collect the scrap material that arises during production and reuse it for the production of our filter mats.
Also Viledon fiber bags for dust removal technology consist of nonwoven polyester materials based on recycled plastics.
Each produced square meter of hydrotexx Eco, a filter medium in pool & spa filter cartridges used in swimming pools, contains recycled polyester material from at least six reused plastic bottles.
Compared to traditional needle felt media, the production of Viledon NEXX filter bags requires 50 % fewer resources to achieve a higher filtration efficiency.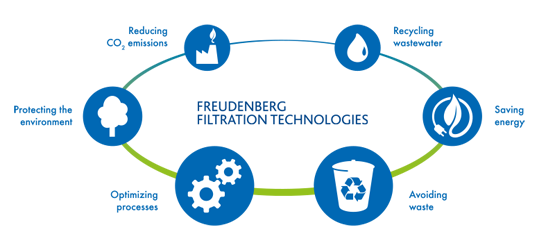 The Freudenberg Group is a member of the Global Compact of the United Nations.
This is a voluntary agreement that currently has roughly 12,000 signatories – including over 8,000 companies from over 140 countries – who commit to managing their business with a value orientation and a focus on sustainability. More information can be found here.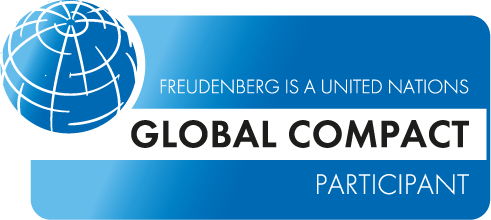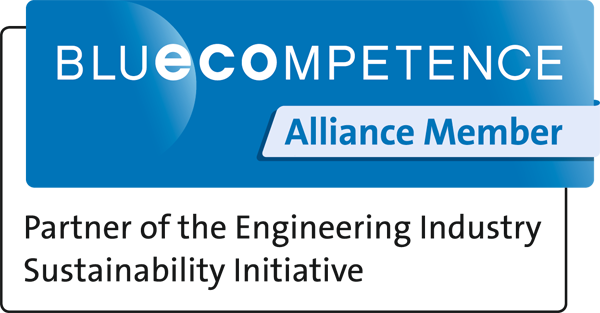 We are Alliance Member of the Sustainability Initiative Blue Competence.
Blue Competence (www.bluecompetence.net) is an initiative of the VDMA (www.vdma.org) for promoting and communication of sustainable solutions for the Mechanical Engineering Industry. By using the trademark "Blue Competence", we commit ourselves to these twelve Sustainability Guidelines of the Mechanical Engineering Industry": www.bluecompetence.net/about.
That's how we see Sustainability at Freudenberg