Why air filtration in food production?
Air quality plays an important role in the safe production of food. The ambient air in production halls must meet certain requirements in terms of temperature, humidity and particle concentration. Certain amounts of fresh outside air are needed for comfort and safety in the workplace. It is also essential to prevent the spread of germs during food production. Controlling the particle content in the air minimizes the risk for product contamination.
Individual air filtration: F7 Filter, F9 Filter or HEPA Filter?
Air quality control and monitoring is critical to minimize contamination and contribute to safe food manufacturing. Airborne contaminants are removed from the air by filtration, and the desired filtration efficiency depends on the acceptable contamination risks. Laminar airflow units are used in high-risk zones. Whether F7, F9 or HEPA filters, selecting the best system requires a detailed risk analysis and knowledge of ventilation systems. The design, construction, installation and commissioning also play an important role in the microbiological safety and durability of the products.
Discover our products for the food and beverage industry.
Click on details for more information. Technical data and specific product features can be found in the e-catalog.
Robust in sustained use, high operational dependability and reliability even in the face of extreme moisture and wet conditions. They enable the energy-efficient operation of air conditioning systems. This translates to energy cost savings and a reduction in CO2 emissions.
e-catalog
The premium class in patented quality. Highly stable filter designs for the greatest possible operational dependability even under extreme loads. Water-repellent. Long service life, making them very economical.
e-catalog
Robust and extremely dependable in hygienic quality. With water-repelling hybrid synthetic nonwoven media (HSN) suitable for use in damp environments. Ideal for air-conditioning systems.
e-catalog
What should be taken into account in air filtration in food production?
In some cases, RLT systems provide good growth conditions for microorganisms. Even if fibers become detached from the filter materials, germs have an easy time of it. It is therefore essential to avoid filters themselves becoming a source of contamination. The risk of germs spreading can be reduced by specifically controlling the relative humidity. In addition, inert filter media should be used that do not provide a breeding ground for fungi or bacteria. Proper design and installation of the filter frame is also important. Closed-cell seals remain intact throughout the life of the filter element. Frames should be sealed to prevent air bypass. Filter elements that can withstand mechanical stresses during operation should be used. They must remain airtight and leak-free even in turbulent conditions. Correct installation of the filters is essential in this respect.
Get a free pre-audit for hygienic food production
A food safety audit is the best possible way to check your food production areas to see if they are compliant within the strictest branch standards and regulations. Our experts are here to support you – request a free pre-audit without obligation.
Benefit from our expertise in the Food & Beverage industry
Customer Information
6 Ways Clean Air Protects your Food Products and Reputation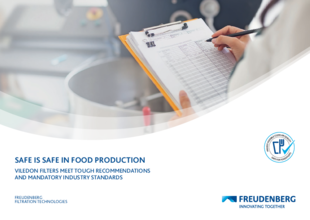 Brochure
Safe is safe in food production
Viledon filters meet tough recommendations and mandatory industry standards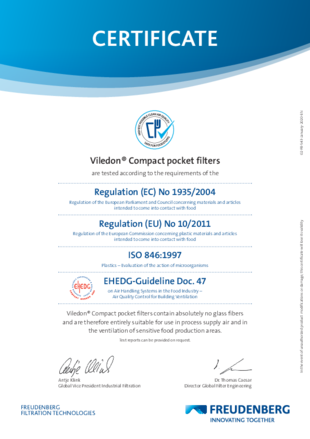 Certificate
Food-safe certificate Compact pocket filters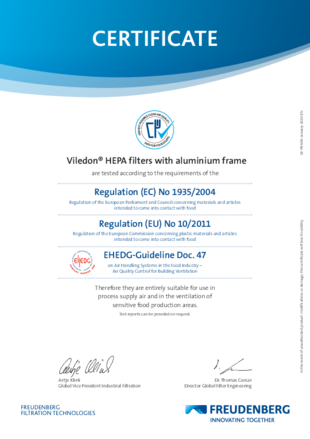 Certificate
Food-safe certificate HEPA filters with aluminium frame
Certificate
Food-safe certificate MaxiPleat cassette filters