Compliance with standards in the production of food
Product safety is paramount in food manufacturing. Compliance with standards helps to meet the high quality demands of the food industry. HACCP (Hazard Analysis & Critical Control Points) is an internationally valid system for food safety. It is used to identify and eliminate risks to ensure the production of reliable food. Compliance with standards is important to protect consumer health and minimize liability risks.
The risks in ventilation systems are easily overlooked. To determine the required air quality standard, it is important to perform a hazard analysis (HACCP). As an expert in ventilation and filtration, we are happy to assist you with topics such as:
Condition based monitoring and filter lifetime

Filter performance - grade, type, efficiency

Air quality survey

Air flow mapping

Maintenance of ventilation equipment

Engineering solutions

Air quality documentation for audit purpose
But other standards are also important in food production. The VDI 6022 guideline aims to achieve air quality in buildings that is beneficial to health. The BRCGS standard defines clear food safety requirements for manufacturers.
We help you to meet the high quality standard of the food industry
Prefiltration is of great importance for hygienic air quality for the food industry. Our filters have first-class filtration properties. They are made of synthetic media whose fibers do not break and self-supporting pockets. They are suitable for operation up to 100% RH and are biologically inactive. In addition, they can be used even with high dust loads and convince with high airflow capacities. The number of filter stages can be reduced without compromising air quality or service life. There is also an airtight seal to the filter frame and filter frames against leakages. Our food-safe air quality solutions help you to meet the latest standards and guidelines whilst reducing your production costs.
Get a free pre-audit for hygienic food production
A food safety audit is the best possible way to check your food production areas to see if they are compliant within the strictest branch standards and regulations. Our experts are here to support you – request a free pre-audit without obligation.

Request your free pre-audit
Benefit from our expertise in the Food & Beverage industry
Customer Information
6 Ways Clean Air Protects your Food Products and Reputation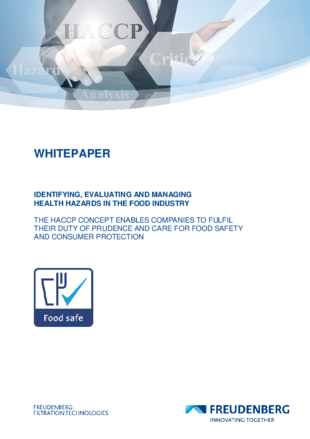 White Paper
Identifying, evaluating and managing health hazards in the food industry