Discover Freudenberg S.A.F.E.air
S.A.F.E.air Cabin Pressuration and Filtration Solutions
can be implemented across mining vehicle fleets
S.A.F.E.air Cabin Pressurisation Filtration Units can be fitted to any mining vehicle to provide ISO 23875 Compliant cabin pressurization and filtering.
The video below shows how a site has implemented S.A.F.E.air Cabin Filtration Units across their entire fleet.
S.A.F.E.air Cabin Filtration
The world's leading filtration and pressurisation system
Safer working environment
S.A.F.E.air filter solutions improve worker health and safety through providing continuous air filtration
Greater return on investment
S.A.F.E.air Pressurisation & Filtration solutions protects equipment and workers while maximising production.
Extended maintenance cycles
Reduced maintenance downtime
Improved equipment reliability
Future-proofing your mine site
S.A.F.E.air has been developed to meet the current and future needs of the mining industry.
Freudenberg Filtration Technologies Innovation delivers a SAFER mine site
S.A.F.E.air Cabin Pressuriser units not only provide a range of benefits for both employee safety and health, but also to operational considerations such as reduced maintenance cycles, shorter downtime and fewer breakdowns due to dust infiltration on equipment.
The cabin pressurization units work across a number of ways, as shown in the diagram below.
The fresh air intake at A filters out heavy contaiminate dust particules through a cyclonic dust ejection system.
Air moves through to B where the first stage pre-filter takes out further course dust particles.
At C second stage HEPA filters remove finer sub micron particles from the air.
Before supplying the filtered fresh air back into the cabin through the cabin pressuriser, a fan connected to the snorkel D draws air from the bottom rear of the cabin, extracting any contaminents that might have been brought into the cabin such as dust and dirt on occupent clothing, or contaminated air that might have entered the cabin as the employee entered the vehicle.
This mix of air is then all filtered through a 3rd stage HEPA filter E to elimate remaining sub micron particles.
Clean, HEPA filtered fresh air then enters the manifold connection F to the air conditioning unit G and enters the cabin via the air vents into the breathing zone for the cabin occupants.
CABIN PRESSURE MONITORING
The S.A.F.E.air cabin pressure monitor measures pressure inside the cab and compares it with atmospheric pressure. When the pressure in the cab drops to a level that is not high enough to prevent dust and other materials entering the cab, the display turns red and triggers an audible alarm output to alert the operator. Pressure alarm points and delay times are user definable.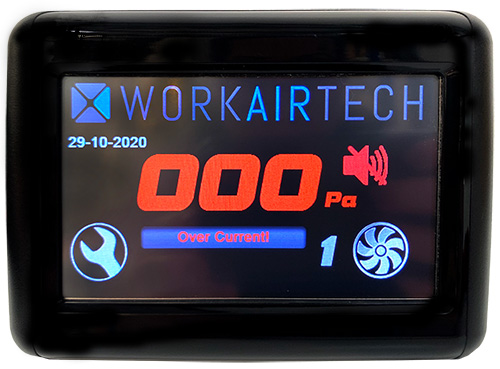 Demonstration of S.A.F.E.air system filtering a cabin
This test is not exhausting the smoke; rather it is filtering it from the air.
S.A.F.E.air System Benefits
QUICK REMOVAL OF RESIDUAL CONTAMINATION IN CABIN
Occupants entering into the cabin exposes the cabin to the outside dust. Once the cabin door is shut the S.A.F.E.air unit quickly removes the contaminated air via the suction pipe through to the HEPA filters to deliver clean air back into the cabin
INCREASED AIR CONDITIONING PERFORMANCE
There is increased air conditioning system reliability due to the integration of the vehicle's air conditioning system with the S.A.F.E.air unit
HOSPITAL GRADE AIR
The HEPA filters provide hospital-grade air into the cabin for the occupant
LEAK PROOF SYSTEM
The suction line remains under positive pressure at all times. In the unlikely event of a hole occurring in the suction line, the air will still ow out the suction pipe and not back into the cabin due to the positive pressure
EXTENDED LIFETIME OF ELECTRONIC COMPONENTS IN CABIN
All of the cabin's electronic components such as switches and connectors last longer because they are not exposed to dust. Also, the end of shift cleaning time is greatly reduced
CONSISTENT MINIMUM 100Pa PRESSURE
The S.A.F.E.air system delivers a constant minimum required pressure of 100Pa. The air conditioner fan speed knob controls the required pressure in the cab to 100Pa, although the industry standard is 50Pa. Should there be any leakage due to an open window(s), the fan speed can be increased by the driver to achieve minimum pressure required in the cab
REDUCED CO2 LEVEL IN CABIN
When a new S.A.F.E.air unit is fitted to a mine vehicle, the cab is deliberately not entirely sealed. Purged air is exchanged for HEPA clean, fresh air resulting in lower levels of CO2 in the cabin
CLEAN EVAPORATIVE COIL
The evaporative coil of the vehicle's air conditioner remains clean, as it is not exposed to dust due to integration with the S.A.F.E.air unit
INTERACTIVE TOUCH SCREEN PANEL
An interactive touch screen panel mounted inside the cab with password-protected settings and alarm set to minimum 50Pa to alert the driver to take corrective action.
EXCEEDS ISO 23875 STANDARD
S.A.F.E.air units are certified ISO 23875 Compliant and Freudendberg HEPA filters remove smaller particulate matter than the minimum specified in the standard, providing cabin occupants with cleaner air.
S.A.F.E.air provides safe and effective cabin filtration
S.A.F.E.air can be installed on all types of mining vehicles: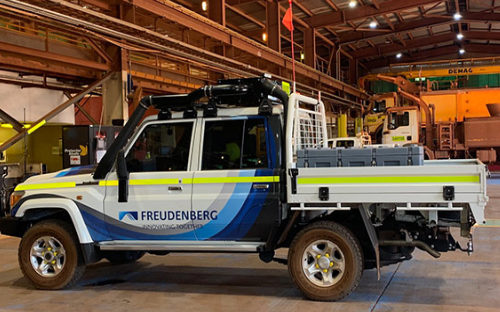 Toyota Landcruiser Ute 79 Series
Toyota Landcruiser Wagon 76 Series
Toyota Landcruiser Dual Cab Ute
Toyota Prado Wagon
Toyota Hilux Dual Cab ute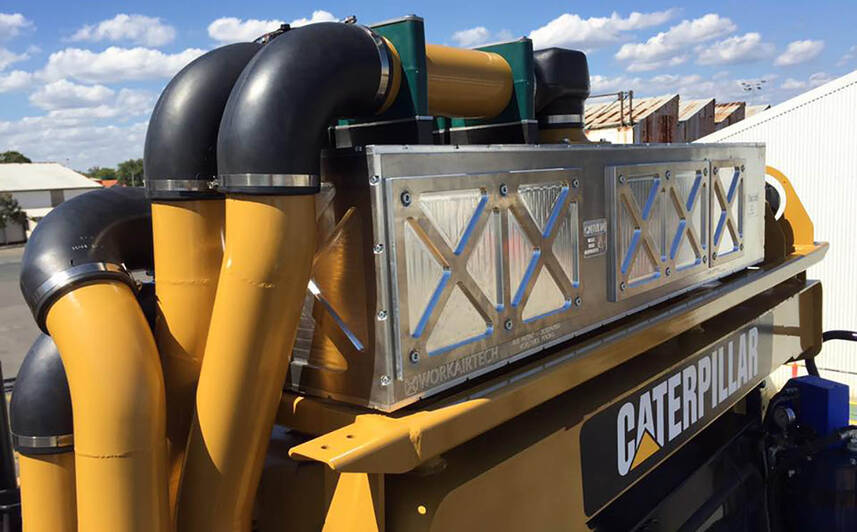 Haul Trucks
Wheel loaders
Wheel dozers
Drill rigs
Bulldozers
Watercarts
Service trucks
Ancillary equipment
All units are certified using the DOP testing procedure by SW Hart & Co.
This is the same level of testing that is used in medical facilities, which test down to 0.3 microns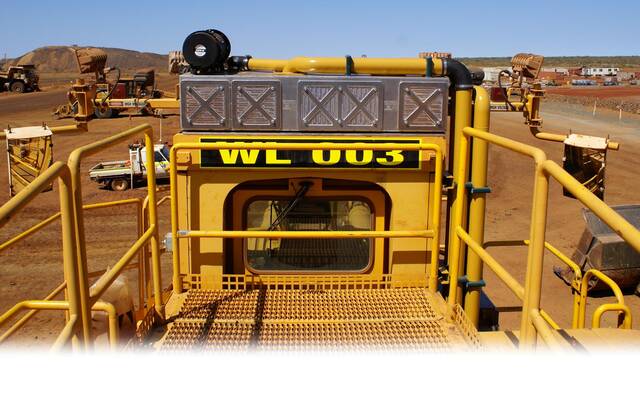 Want to know more about S.A.F.E.air or have a question?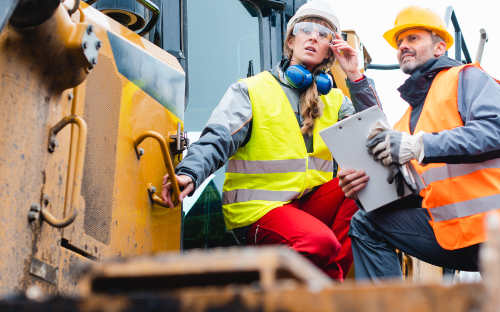 Contact us for an obligation free site/fleet review on how
S.A.F.E.air Air Filtration and Pressurisation systems
can improve your operations
S.A.F.E.air Cabin Air Filtration and pressurisation systems for staff driving heavy machinery in potentially harmful environments
LOWER YOUR OPERATING COSTS WITHOUT COMPROMISING WORKERS HEALTH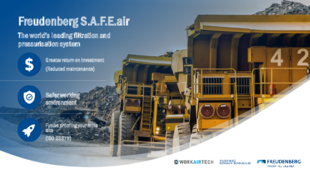 Brochure
S.A.F.E.air Nano particle & CO2 filtration
S.A.F.E.air Nano particle & CO2 filtration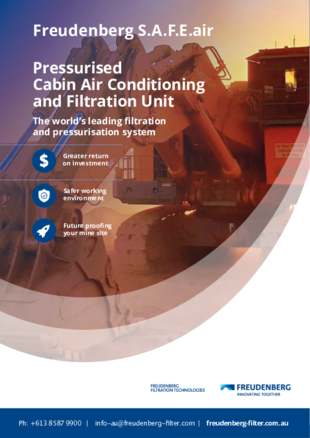 Brochure
S.A.F.E.air Pressurised Cabin Air Conditioning and Filtration Unit
The world's leading filtration and pressurisation system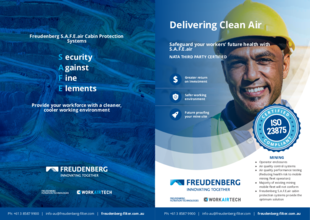 Standards and Certifications
Delivering Clean Air above the industry Standard
ISO 23875 Air quality performance testing key criteria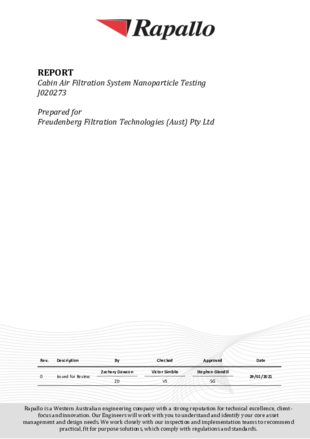 Certificate
Nanoparticles test report
Freudenberg Filtration Technologies
S.A.F.E.air Filtration and Pressurisation for Driver Cabins of all heavy equipment.