Solutions for compressors
Long-lasting efficiency. Thoroughly reliable.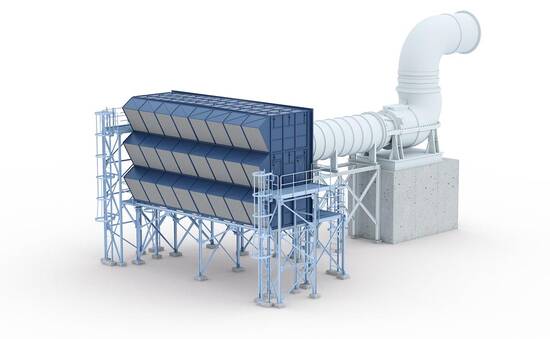 Plant protection and filter lifetime are key aspects for compressor intake air. The filter solution for the given compressor application must be 100 percent reliable, with quickly available spare parts and simple filter exchange process. We would be happy to assist you with our competence in this area.
Completely customizable solutions
Long-lasting filters with extremely high dust-holding capacities
Coalescer prefilters with special features, such as water droplet separation
Optimal protection of the compressor blades during sustained 24/7 operation
Outstanding filtration efficiency for maximum availability and return on investment (ROI)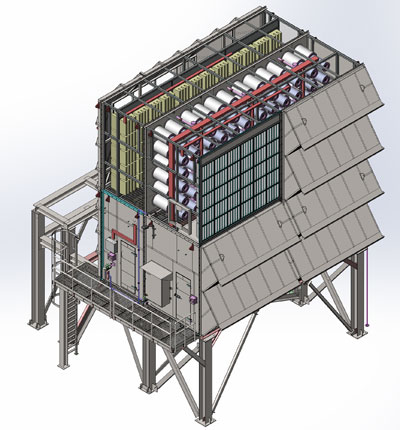 Pulse-jet filter house provides clean air for oxygen generation
For an Indian based manufacturer and supplier of industrial gases Freudenberg Filtration Technologies has designed a new pulse-jet filter house that provides clean air for compressors generating oxygen.
The scope of the project included engineering, manufacture, construction and assembly of the new air intake filter house fitted with weather hoods and bird protection screens. The initial situation showed fouling problems inside the compressors due to heavy pollution of the ambient air and extremly short working life for the previous filter system. These severe problems have been solved with Freudenberg's individually customized pulse-jet cleaning system with compressed air header and solenoid valves followed by an efficient downstream policing filter system. Now the clean compressors enable the plant to provide a constant and reliable oxygen supply to the nearby steel plant.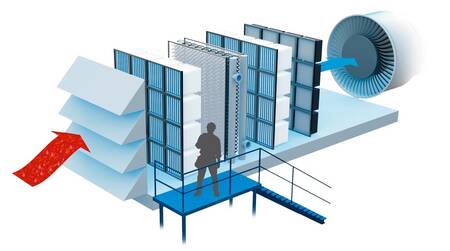 All-in-one system solutions with Viledon eee.Sy
Filtration and cooling of the intake air in hot and humid climate zones
The operation of gas turbines and compressors in warm and humid climate zones poses a real problem. A cool solution for a hot problem: Viledon eee.Sy is an all-in-one system for filtration and cooling of the inlet air. At the same time, the waste heat generated in the process is recovered and utilized in order to improve the performance of gas turbines, compressors and engines in these regions and achieve lower energy consumption and higher plant profitability.
Find your ideal filter solution with Viledon eee.Sy.
Benefit from our specialized expertise in compressors.
Select and request detailed information.
Discover our products for gas turbines and compressors.
Click on details for more information. Technical data and specific product features can be found in the e-catalog.