Flawless air hygiene in the production of dairy products
The processing of dairy products is a sensitive process and is subject to strict regulatory requirements. Contamination in the manufacturing process can shorten the shelf life of products and reduce their quality. But contaminated cheese, yogurt or butter are not only inedible, they can also cause illness. Expensive product recalls and image damage are also possible.
Air filtration solutions for the safe production of dairy products
Air purity is essential for the hygienic production of dairy products. Air quality control reduces the risk of contamination and ensures the shelf life of dairy products. It also contributes to a safe working environment and protects employees. The design and construction of ventilation systems should prevent the flow of air from contaminated areas into clean areas. The control of room temperature and humidity is also crucial for ensuring the safe production of food. Air quality standards can be determined using hazard analysis (HACCP). We take your individual process requirements into account to find the best possible filtration solution for you.
Get a free pre-audit for hygienic food production
A food safety audit is the best possible way to check your food production areas to see if they are compliant within the strictest branch standards and regulations. Our experts are here to support you – request a free pre-audit without obligation.

Request your free pre-audit
Benefit from our expertise in the Food & Beverage industry
Customer Information
6 Ways Clean Air Protects your Food Products and Reputation
Reference
Cleaning concept, hygiene inspection and filter change ensure clean process air in dairy plant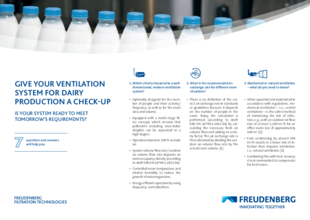 Brochure
Give your ventilation system for dairy production a check-up