Discover our solutions for hospitals
Benefit from the Freudenberg expertise now
When the surgeon takes the scalpel in the operating room, the highest hygiene standards must be ensured. This also applies to the air filtration. The same is true in isolation rooms, where patients could transmit infectious diseases via the air (airborne spreading). Again, filters must work reliably at all times to prevent microbiological contamination.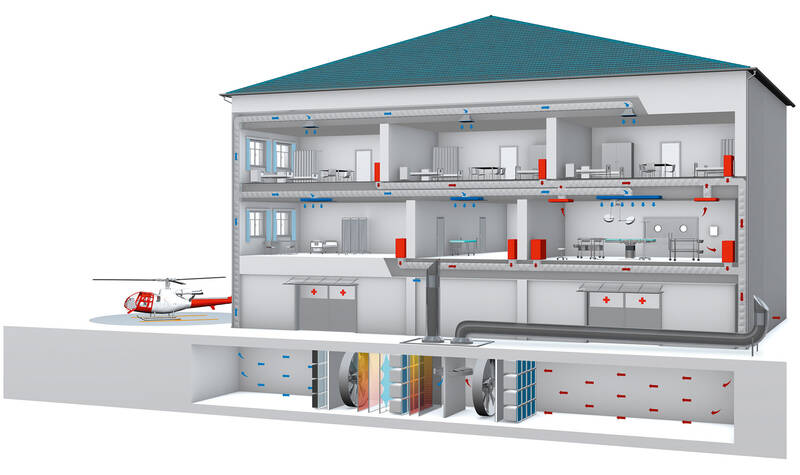 Viledon filter systems for hospitals
In essence, filter requirements for hospital applications can be summarized in three key points:
Protection of patients, visitors and staff from airborne contaminants
Protection against microorganisms in buildings
Reliable filtration of non-pathogenic particles, as these can serve as a vehicle for bacteria
To achieve the required indoor air quality, we combine air filters of different classes and designs into multi-stage systems. Generally, a 2-stage filtration system serves to remove coarse to fine particles. In operating theaters or isolation rooms, end-stage filters are used to remove even finer particles from the air.
These sensitive areas are subject to particularly strict requirements. To ensure the highest quality of clean air, the air is guided by low-turbulence displacement flow. In adjacent areas, the number of hourly air-change cycles is determined by the size of the room as well as by the equipment it contains and the numbers of people using the area. The supply of a sector with filtered air must be designed to ensure an effective flow while minimizing the risk of creating higher pressure than in adjacent areas, under all operational conditions.
Viledon FilterCair service
Your comprehensive service package for maximum filter performance
Improve the performance and efficiency of your air filtration system with the sophisticated Viledon FilterCair filter management system.
Your benefits: Energyefficient filtration system and maximum people protection with customizable packages – consisting of a comprehensive filter selection plus services and warranties at guaranteed fixed costs. Let us help you implement a high-performance and environmentally friendly system solution for your hospital to achieve a long-term reduction in your operating costs.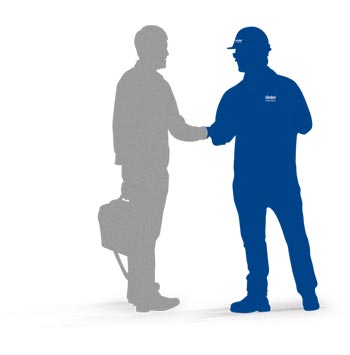 Viledon FilterCair service for hospitals includes:
Hygiene inspections and hygiene controls in accordance with VDI 6022, conducted by trained personnel
Filter replacement and cleaning, including certified disposal
Acceptance testing according to DIN 1946-4
Filter monitoring
Filter procurement, stockholding and disposition
Filter comparison and energy efficiency measurements
On-site filter training modules, including installation, filter changing and handling, storage, principles of filtration, filter classification
Test laboratory equipped to the latest standards
Personal account management
Complete range of filters
Contact us Learn more

How efficient is your filtration system?
Find the optimal filter solution for your plant with e.FFECT based on ISO 16890
Standardized systems for supply air filtration are frequently inefficient and do not make full use of their potential for optimization. The more specifically filter systems are customized to the respective ambient conditions and plant requirements, the greater performance and reliability they achieve.
Our experts work with you to develop the best filter solution for your plant on the basis of the testing standard ISO 16890. In the filter evaluation, typical urban and rural particle size distributions are considered based on the particulate matter fractions PM1, PM2,5 and PM10, and filter arrestance efficiencies are determined accordingly.
With e.FFECT, the electronic Freudenberg Filter Efficiency Calculation Tool, calculating the optimal filter solution is extremely simple. The local ambient conditions and specific process requirements enter directly into the calculation. Multi-stage filter systems can then be objectively compared. This simplifies the selection of the best filter concept for your needs.
Hygiene standards for maximum protection
Requirements for hospitals
Where the highest standards of air purity are required – for example in operating rooms in hospitals – airborne particles and germs must be reduced to an absolute minimum in order to protect the patients, visitors and hospital staff.
Benefit from our specialized expertise for hospitals.
Select and request detailed information.
Discover our products for hospitals.
Click on details for more information. Technical data and specific product features can be found in the e-catalog.
Want to know more about Health & Pharmaceutical Filtration or have a question?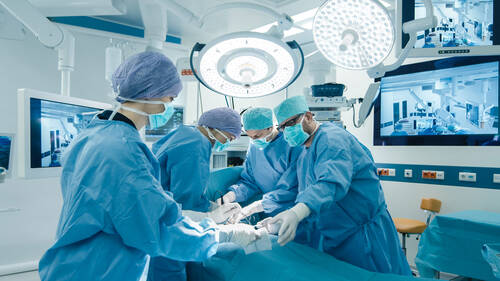 For an audit
For your Hospital Filteration Systems
SIMPLY FILL OUT THE FORM WITHOUT OBLIGATION