Our solutions for the food and beverage industry
The hygiene requirements in food production are high. Even the slightest impurity of the air can lead to contamination of production processes and manufactured food. Contaminated food products pose a risk to consumers. They can result in expensive product recalls and reputational damage. Legal problems are also possible if guidelines have not been followed.
Benefit from our expertise in the Food & Beverage industry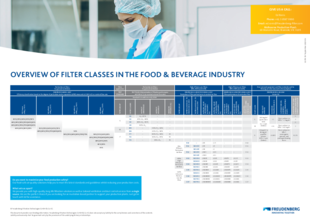 Customer Information
Overview of Filter Classes in the Food & Beverage Industry
Customer Information
6 Ways Clean Air Protects your Food Products and Reputation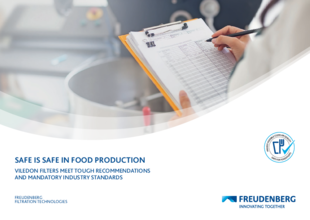 Brochure
Safe is safe in food production
Viledon filters meet tough recommendations and mandatory industry standards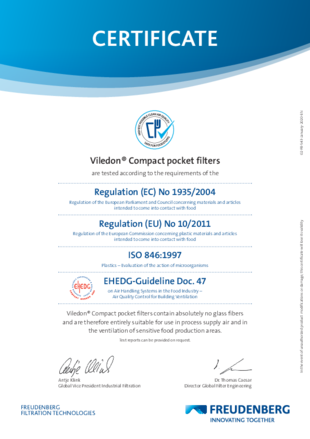 Certificate
Food-safe certificate Compact pocket filters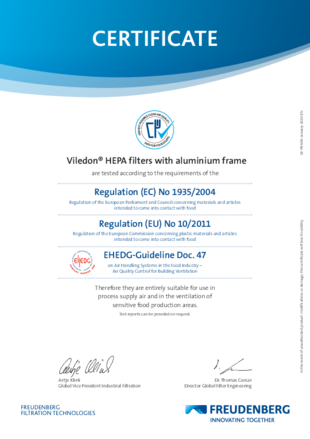 Certificate
Food-safe certificate HEPA filters with aluminium frame
Get a free pre-audit for hygienic food production
A food safety audit is the best possible way to check your food production areas to see if they are compliant within the strictest branch standards and regulations. Our experts are here to support you – request a free pre-audit without obligation.

Request your free pre-audit
Air filtration solutions for safe food
Individual concepts for air filtration (for example with filter class F9 or HEPA) are the solution for safe food production. Air filters remove airborne contaminants from the air. The separation of unwanted microorganisms effectively prevents process and product contamination via the ambient air. This helps protect the quality and shelf life of your food products. Controlling and monitoring ambient air quality minimizes the risk of product contamination and facilitates compliance. Thus, air filters make a significant contribution to safe and hygienic food production. With an individual filtration concept, we take into account all components that can have an impact on air purity. If a medium-high air quality is required, F7 filters or F9 filters are used. HEPA filters, on the other hand, are suitable for particularly sensitive areas.