Certification of air filters
EUROVENT fine filter certification
In its role as an independent institution the EUROVENT Certification Company has developed an international certification program for fine filters. The evaluation and classification of fine filters is based on the ISO 168900:2016 test standard. Viledon fine filters are all certified by EUROVENT, giving users complete peace of mind.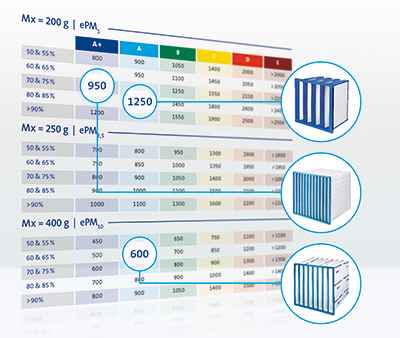 EUROVENT energy efficiency classification system
The European Committee of Air Handling and Refrigeration Equipment Manufacturers (EUROVENT) developed a European energy efficiency classification system for air filters as part of the EUROVENT Certification process. The EUROVENT 4/21 facilitates the choice of efficient filters. The classification shows the annual energy consumption in relation to the respective fine dust fraction and thus at a glance how energy-efficient a filter is. The new Energy Rating 2019, based on ISO 16890:2016, has been in force since 1 January 2019. Class A+ stands for very good energy efficiency, E for very poor. The committee adapted the EUROVENT directive and raised the requirements. Many filters previously classified as A+ have been downgraded to A. The challenge for filter manufacturers is to develop even better filters together with customers.
Certification of filter media for extraction in dust-removing machines
According to the German Federal Ordinance on Hazardous Substances, companies must take appropriate measures to ensure that the breathing air at their employees' workplaces is free of substances hazardous to health to the extent that no illnesses can occur. These include, for example, dedusting measures using dust removing machines and equipment.
All Freudenberg filter media for dust removal applications used in dust removing machines and equipment are tested and certified according to EN 60335-2-69 Appendix AA.
Benefit from our specialized expertise in certification of air filters
Select and request detailed information.