Individually developed, precisely planned
Constructions and retrofits of air intake systems with Viledon Engineering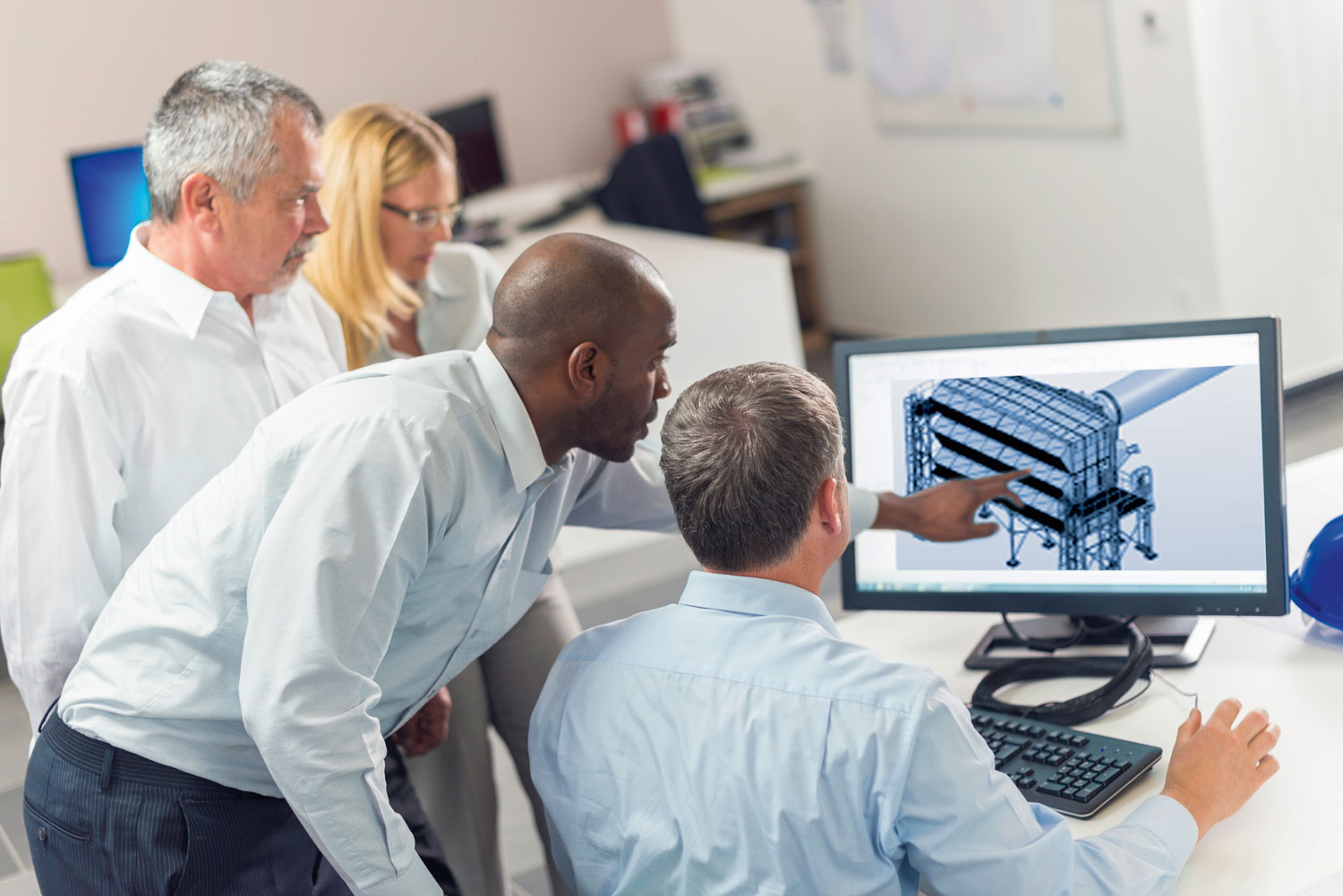 Viledon Engineering provides a complete development and installation program for retrofitting or new construction of air filtration systems. Our individually specified service packages include on-site status-quo analyses, consultancy, design of filter systems, quotations using 3D-CAD drawings, analyses of technical feasibility and economical viability, complete project execution, documentation, training and aftersales service.
Our long lasting experience in Engineering projects in the areas of power generation, oil and gas industry, chemicals, paper mills, food and beverage industry and industrial painting is documented in numerous globally realized projects. Our references include air filtration systems for gas turbines and compressors, ventilation systems for control rooms or production plants in various industries and many more. We are pleased to present to you some of our specific project references in a personal meeting.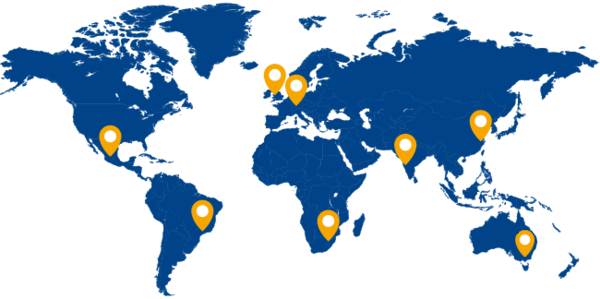 Utilise the World Wide network of Freudenberg
Australia, Melbourne
Brazil, Jacarei
China, Suzhou
Germany, Weinheim
India, Pune
Mexico, León
South Africa, Johannesburg
United Kingdom, Crewe
Our Engineering teams are based all over the world and work closely with our customers to provide efficient filtration solutions no matter what size and scale the project has. Each Engineering solution is customized according to the requirements of each specific application. We use different construction types and a comprehensive range of components.
Best practice examples of retrofits or new construction with Viledon Engineering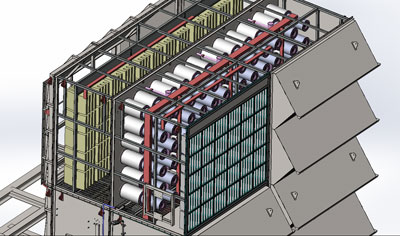 Pulse-jet filter house provides clean air for oxygen generation
Pulse-jet filter house for air separation compressors in Hazira, India. Design, Engineering, manufacture, assembly and supervision for a new air intake system with supporting structure. The 4-stage filtration system features moisture-resistant prefilters, double-cylindrical cartridge sets and efficient downstream policing filters. Replaced in a record time of 36 hours.
Laminar air flow units protect high risk areas in food production
A clean engineering solution for the clean-room area of the filling line of a Spanish producer of cream milk. New fan filter units and laminar air flow units protect the high risk zone with conveyor lines and bottling machines. Prevention of contamination for open bottles during transport and filling. Increased hygienic indoor air quality of the clean room and optimized overpressure in the filling machine area.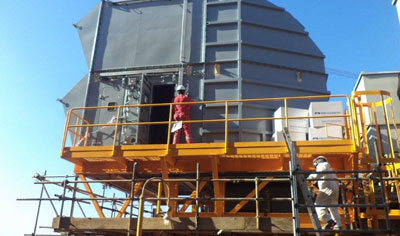 Filter houses on offshore platforms cope with moisture and sandstorms
Oil fields located in the Arabian Gulf needed new filter houses for their platforms to ensure a reliable operation of the gas turbines' compressor sections. The local conditions are harsh with moisture, salt and sand. Thus, engineering and construction of filter houses had to consider optimal protection against corrosion. A 3-stage filtration system with hydroMaxx coalescers provides high efficiency and allows continuous operation.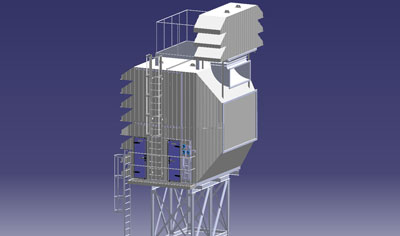 Marine air intake filter units protect gas compressors for offshore platform
The Brazil-based gas field runs gas turbines for the compression of gases from the nearby offshore platforms. The marine air intake units made from stainless steel prevent turbine blades from corrosion or erosion. Weather louvres, mist eliminators and a filtration system with water barrier protect against harsh weather conditions with salt and fog.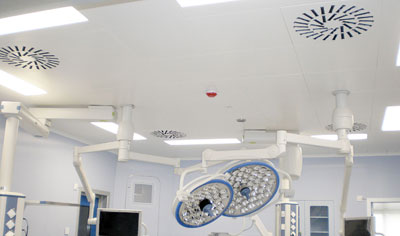 Efficient ventilation systems for hospital cleanrooms
Customized air conditioning units from design to commissioning with switchboards, electrical equipment, central control units for temperature, pressure, humidity, constant volume flow and multi-stage filtration equipment. The required cleanroom air quality for the operating rooms, sterilization and intensive care areas is ensured by ceiling air outlets with HEPA filters.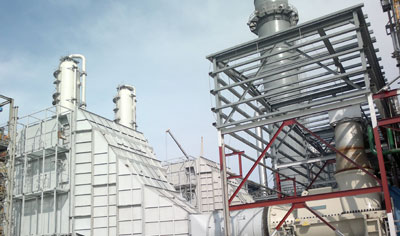 Static filter houses for turbo compressors in confined spaces
Design, building and installation of two complete air intake systems for two turbo compressors of a Chinese petrochemical plant. Filter house with transition section, individual shut off louvres plus electrical drive for online filter exchange, surge and implosion doors. 2-stage filtration system plus up-stream anti-icing with hot water heat exchanger.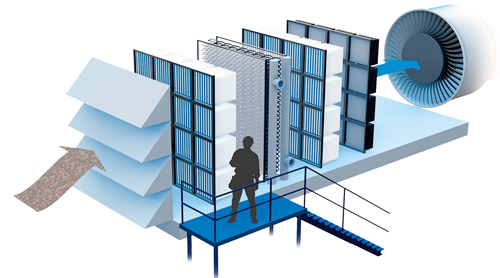 Viledon eee.Sy: simply unique
The all-in-one inlet air cooling and filtration solution utilizing your waste heat
Viledon eee.Sy stands for "energy-efficiency-enhancement System". This is a turnkey system for enhancing the energy efficiency of intake air systems for turbines and compressors. Freudenberg Filtration Technologies can therefore offer customers a system suited to modern industrial scale applications. Today's economic and environmental mega-trends call for massive improvements in the efficient use of existing energy sources.
Benefit from our specialized expertise in modern cooling and filtration solutions
Higher energy efficiency of turbine or compressor
Lower energy consumption
Higher, stable production output (process industry)
Increased power output
Lower turbine/compressor maintenance costs
Minimized fouling and damage on compressor blades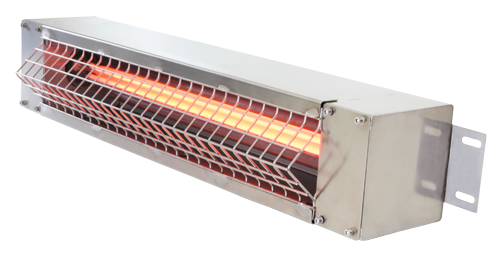 Viledon IceProtect - the infrared anti-icing unit
Easy handling and maximum protection
Viledon IceProtect is a unique, variable infrared anti-icing unit, which is used as icing protection for filter walls. At the heart of IceProtect is the infrared heating element. This is mounted within a stainless steel housing and protected against dust and splashing water by a built-in quartz glass protective tube. A grille provides additional security.
IceProtect is extremely easy to handle and the unit can easily be mounted on the filter house. The infrared heater is maintenance free and can be simply removed if required. A dirty protective tube can be quickly cleaned, ensuring maximum heating performance at all times.
Your advantage with Viledon IceProtect
Cost-effective alternative to systems using hot bleed air from turbomachinery compressors or heat exchangers
No additional pressure drop
Module can be supplied in different lengths
Delivery includes complete measuring and regulating technology, including switch cabinet
Protection of heating element against dust and water spray to IP54 standard
Easy change of heating element
Benefit from our specialized expertise in constructions and retrofits of air intake systems
Select and request detailed information.