Capitalize on sales potential with micronAir cabin air filters
Maximum protection for drivers and passengers
Advanced micronAir cabin air filter solutions in vehicles protect both driver and passengers. Make the importance of clean air in vehicles a key issue at your authorized workshops to take advantage of new sales potential.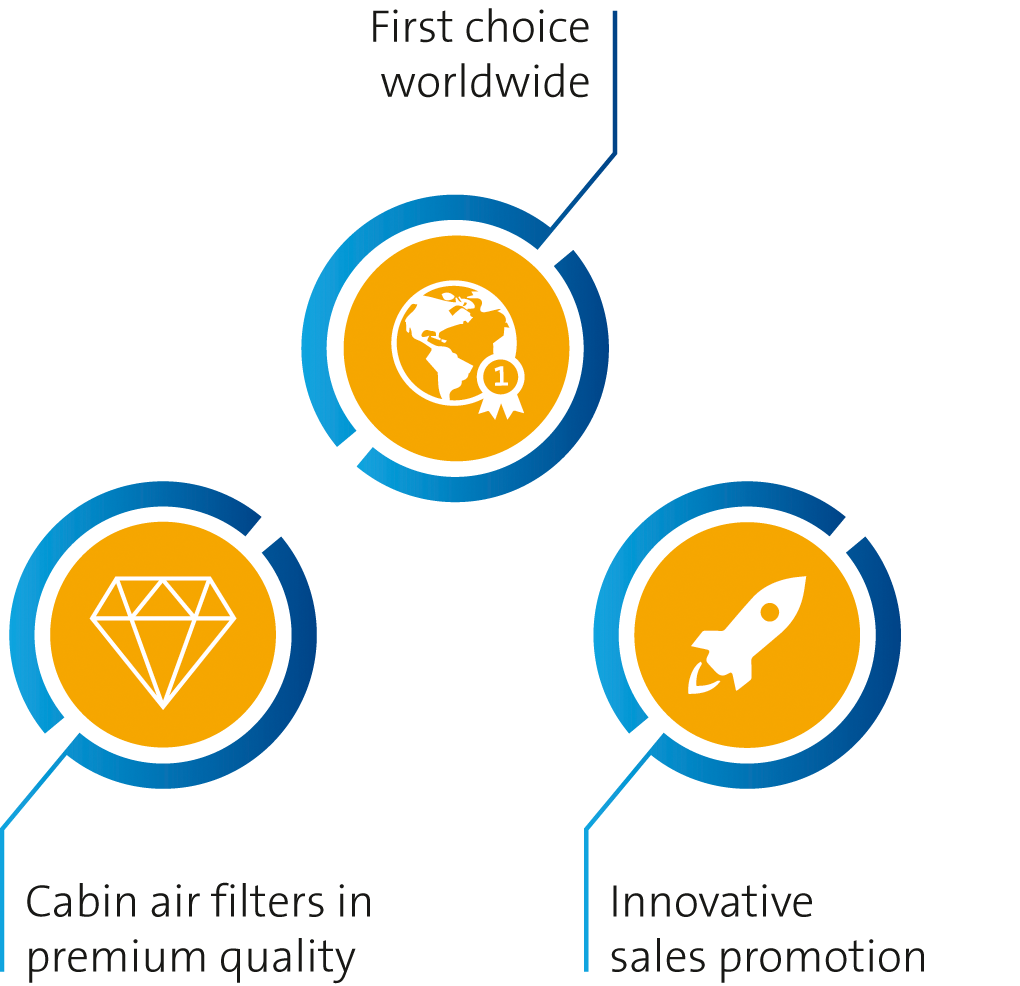 Nine out of ten people on the earth breathe polluted air according to a study by the World Health Organization from 2016. Approximately seven million people die every year from the health consequences. Everyone in both rural and urban regions is affected. The rapid development in the area of electric mobility will also fail to deliver a significant improvement in air quality. After all, the main causes of air pollution can be found in construction, industrial combustion processes and nature.
"An increasing number of people around the world want to actively protect themselves and their loved ones from air pollution. Our advanced cabin air filter solutions are tailored to regional air conditions to ensure reliable protection." Volker Bräunling, Regional Director Automotive Filters, Europe
Advertise clean air, watch sales rise at your authorized workshop
With the sale of our micronAir premium cabin air filters, you offer customers a comfortable atmosphere with clean air inside your vehicles. At the same time, the use of micronAir cabin air filters in vehicles opens up tremendous sales potential. After all, regular filter replacement is essential, and VDI 6032 from the Verein Deutscher Ingenieure (VDI) recommends changes twice per year in light of the continuously worsening levels of air quality.
We are here to support you
Your contact for innovative air treatment solutions
Freudenberg is the inventor of the cabin air filter. With our years of experience in consulting on, developing, industrializing and producing cabin air filters, we are the ideal partner for innovative air treatment systems in vehicles. As a pioneer in the area of cabin air filtration, we are perfectly familiar with the rising demands of your workshop customers on air quality inside vehicles. Whether the problem is pollen, soot, dust, allergens, gases or unpleasant odors – we ensure that drivers and passengers can breathe freely. Direct and uncomplicated communication with you is very important for the development of OES cabin air filters. You will find our experts and production facilities at 34 locations around the world, including one near you.
Strict quality standards for micronAir cabin air filters
micronAir cabin air filters are put through their paces at the filter laboratories of Freudenberg Filtration Technologies and in practical field tests. In the laboratories, our testing specialists carry out standardized performance tests according to national and international standards as well as special tests under significantly harsher conditions. Until the successful completion of the filter development process, the new filters are also subjected to numerous practical testing scenarios. This performance data provides valuable knowledge, which also forms the basis for the on-going development of our products and optimal advice to our customers.